MESSAGE FROM DR (PROF) B.K.DAS, ADVISOR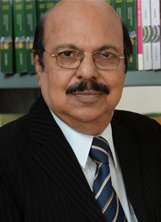 The rationale for the Birla Global University in Bhubaneswar, Odisha is to establish an institution of international repute to create a global learning environment in the state, develop the state and national manpower to build the research and professional capacity in the state and create a reputation of the state in global map. This also enhances the visibility of the state in higher education at national and global level. Given the development agenda of the state and global level interest in the agenda, it is important to build a national /international quality higher education to sustain the interest and provide qualified manpower to the state, nation and the global community.

There is no university in the state with such vision to offer undergraduate, postgraduate and doctoral studies in diversified areas of professional education in Business, Design, Communication, International Affairs, Odishan Art & Culture development, Skill Development, and Social science. The core strength of the University is proposed to be commitment towards developing research capacity and professional programmes in the proposed domains. The proposed University will specifically satisfy the felt need of the State Higher Education agenda and National Knowledge Commission (NKC) to provide context specific education through regional universities. The Birla Global University has the mission to develop human resource and research capability in for equitable and sustainable socio-economic development of the region. The university intends to be an institution of excellence in higher education to put the State at global map.