How Collective Vision helped us in creating

Birla Global University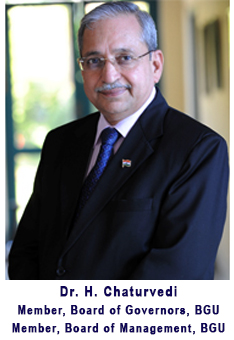 BIMTECH is one of the few B'schools in India which has used vision building very successfully to plan its future. The first vision building exercise started in the year 2000 which took a shape as the Vision - 2005. The mission under this vision was to be counted among the top 25 private B'schools in India with residential campus. In 2003 itself, we were ranked 17th by Business Today - AC Nielsen Ranking Survey while the Greater Noida Campus was launched in August, 2004.

We started another exercise in 2006 to draft a new vision. After discussions with all stakeholders, we could formulate the Vision-2011 which stipulated to become one of the top 10 B'schools in India and obtain the status of a Deemed University. Again in 2011, we initiated a yearlong vision building exercise. This time leading deans, directors, researchers and industry experts of the country were also involved along with faculty, staff and alumni. A new Vision-2021 came out of these deliberations. This was published as a document titled "Vision Mission & Values".

Since 2008, we have started working to get a status of a Deemed University as the rigid regulatory norms of the AICTE were not facilitating faster growth. An application was submitted to the MHRD in 2008 for granting us status of a Deemed University. Due to Lok Sabha elections of 2009, it got delayed and later the new MHRD minister, Mr Kapil Sibal, decided not to issue any fresh approval for deemed university status.

Since 2008, we started thinking simultaneously to set up another campus for making us a pan India B'School. We approached state governments of Gujarat, Rajasthan and Haryana for allotment of land. We met the then CM of Gujarat, Shri Narendra Modi in 2007. He promised us to allot of 100 acres land at Dholera, a new city being developed by the state near Surat. Shri B S Hooda, CM, Haryana also offered us land at Rajiv Gandhi Educational City, Sonepat and the Government of Rajasthan too offered us land at Jaipur for setting up a campus. However, none of them got fructified ! Something else was destined. Dr B K Das joined as an Advisor in 2008. IMI, Delhi was allotted land at Bhubaneswar, which prompted us to ask Dr Das to explore possibility of getting land there. We had submitted an application to IDCO, Government of Odisha which very quickly allotted 30 acres prime land to us at Gotapatna Institutional Area, Bhubaneswar.

Our management cleared the proposal in 2010, to start the campus by 2012. We started construction of a new campus at Bhubaneswar on April 5, 2011. The foundation stone was laid down by Smt Jayashree Mohta after an elaborate Pooja by a priest from Puri. However, due to inordinate delay in construction work, we could launch the Bhubaneswar Campus only on August 2, 2013

In September, 2011, a document was prepared by Prof K C Arora, Dr BK Das and Dr Rahul Singh for setting up a state private university at Bhubaneswar. At that time only one private university was functioning in Odisha, i.e. Centurian University. Our Advisor, Dr BK Das had taken up the onerous task to pursue Government of Odisha for its concurrence to set up Birla Global University. He was ably assisted by Shri Janardan Dash, our Consultant at Bhubaneswar.

Faculty members and staff at Greater Noida had always been ready to take up cudgels for developing a blue print for the Birla Global University and often rushing time to time to Bhubaneswar for any exigency. Prof A Sahay, Prof K R Chari, Prof N N Sharma have been giviing their sage advice for sorting out any problem. Dr Rahul Singh and Dr Rishi Tiwari camped at Bhubaneswar in July-August, 2013 as trouble shooters while the new campus was being launched.

Dr AV Shukla and Prof Chanchal Kushwaha tooks up responsibility to ensure admissions at a time it was difficult to get good candidates at a new campus. Our Finance Manager, Shri Y S Agarwal, managed the financial planning very well. His contribution has been commendable. Shri S N Misra, General Manager (Administration) at Greater Noida was transferred to Bhubaneswar. He has been a big help to manage project construction which had taken almost 2 and 1/2 years. Shri M S Bhati and Shri Neeraj Jha have taken charge of setting up mess and networking respectively. Faculty recruitments were looked after by Dr L Ramani and Ms Hemani.

In nutshell, it can be said that liberal support of Birla Family and collective commitment by the faculty, staff and alumni helped us in translating our dreams into reality and scaling new heights.


Paron ko khol, Zamana udhan dekhta hai !

Zameen par baith ke, kya asman dekhta hai !!